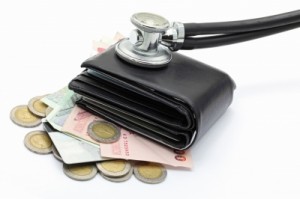 Yes, Bankruptcy discharges medical bills. Oddly, two opposing myths exist regarding medical bills and bankruptcy. The origin of these myths is a mystery to the author. However, I field questions weekly from people asking questions showing me that myths are alive and well. 
Myth 1: Bankruptcy does not eliminate medical bills.
That is not true. Bankruptcy discharges medical bills. Medical bills have no special status in bankruptcy. Medical bills are debt like any other debt. Perhaps the myth exists because bankruptcy is often associated with discharging loans and medical bills are not loans. Alternatively, the myth lingers due to internal guilt. The debtor feels guilty for not paying medical bills after receiving proper treatment. Perhaps that guilt reveals itself as a belief that society would not allow the bankruptcy discharge of medical bills. In any event, bankruptcy discharges (eliminates) medical bills so you need not pay them back.
The second myth is the opposite.
Myth 2: Medical bankruptcy is a special type of bankruptcy.
This myth acknowledges that bankruptcy discharges medical debt. However, the myth goes one-step further and assumes a special type of bankruptcy exists to deal with medical bills. Bankruptcy law does not have a special category or type of bankruptcy for medical debt.
The medical bankruptcy myth is easier to understand. A severe medical event (accident, illness, etc) and the associated bills are one of the main causes of bankruptcy. The idea of medical bankruptcy combines the fact that medical bills lead to bankruptcy. However, a debtor must disclose all debt in bankruptcy. The law has no special medical bankruptcy that only discharges medical bills but allows you to keep your other debt.
Bankruptcy discharges medical bills. For better or worse, medical bills are a leading cause of bankruptcy. But those who need to file bankruptcy due to medical bills are thankful bankruptcy exists. Bankruptcy allows them to recover both physically and financially.
Image courtesy of Vichaya Kiatying-Angsulee, freedigitalphotos.net