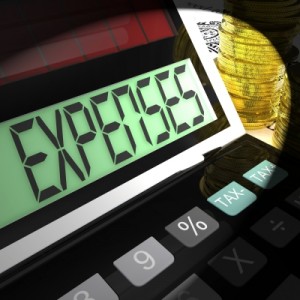 Frugal spending, no impact living, buy nothing new, living small are all movements designed around sustainable living and transitioning from a consumer culture to a happiness culture where we live life, not consume life. What I am going to discuss here is one aspect to get organized for that transition. First, we must recognize that we have limited financial resources; second we must admit that we want to use as little of that resource as is practical and reasonable so we can sustain our lives over the long haul. The starting point is to understand our expenses and spending.
4 Categories of Living Expenses
Unavoidable Expenses

: Level 1 Expense: Unavoidable expenses are those expenses you cannot avoid paying and live in a 1st world, modern society or for which there is no practical or realistic alternative that is more cost effective. What does that mean? It is unrealistic (and not possible) to imagine a world where everyone drops of the grid. So, expenses like electricity, gas, water, garbage removal are unavoidable. Short of getting a cabin in the woods or mooching off of others (not recommended), unavoidable expenses are those expenses that must be paid as part of living in society.
Bear in mind, the list of unavoidable expenses is very short. Unavoidable is different than essential. We will cover essential next as that is the level 2 expense.
Essential Expenses

: Level 2 Expense: Essential expenses are those expenses required to live and maintain a minimal level of health. It is easier to think of essential expenses as requirements that have to be met, but varieties of ways exist to satisfy the requirement. Here, we are talking about survival and health, so items like food, shelter, minimal hygiene, and medical are essential expenses.
Essential expenses represent needs you must satisfy, but how you satisfy those needs can vary. But always keeping the overarching goal in mind that we want to use as little of our financial resources as is reasonable to meet those requirements. A word of caution, essential expenses represent the minimum required to satisfy the need. If you overspend in an essential category, that over-spending becomes a luxury expense. For example, maybe, right now, you spend $600 per month on groceries; how much of that is an essential expense and how much is really a luxury expense. Push comes to shove, could you meet your caloric and health requirements for $300 per month? If so, the excess is actually a luxury expense.
Necessary Expenses

: Level 3 Expenses: Necessary expenses are those expenses that must be incurred to allow you to pay for level 1 and level 2 expenses. For the most part, necessary expenses are related to transportation and items needed to produce income. Again, just as with essential expense, you have a few requirements that must be met, but how you satisfy those requirements are subject to your creativity.
Luxury Expenses

: Level 4 Expenses: Luxury expenses, you guessed it, is everything else. If the expense or requirement is not unavoidable, not essential, not necessary, then it is a luxury.
Why no list?
Why didn't I give you a list for each category? Because peoples' circumstances are different, what they are able to do over the short term and long term differ, and their starting points differ. One thing to understand is that what is included in each category is not fixed, it's fluid. At the start of the project, you may have certain necessary expenses, but as you transition, some of the necessary expenses may fall to luxury expenses.
What expenses fit where is up to the person. So long as they are objective, contemplative, and serious, they can make this system work.
Action Step, Categorize Living Expenses
The action step is to categorize your spending. This will help you come up with a budget, give you a picture of your financial life, and determine what you can cut out. I am not necessarily saying you have to cut out 100% of luxury spending, but your goal is to get as close to 100% as you can. My caution to you is to not mis-categorize expenses or requirements. The risk is that you will start second guessing when you see all the items that end up in the luxury list. Then you will start rationalizing how to get some of those items into higher priority categories. Don't do that. It is okay to spend on some luxury items. You don't want blinders; you want to make informed choices. At least you will recognize how you are spending money and can adapt over time.
The reason to focus on luxury expenses first is that you can take immediate action on those items. You can stop buying coffees at cafés this second. Eliminating or transitioning unavoidable, essential, and necessary expenses takes more time, creativity, and work. But, the first step is to sketch your financial picture so you can start painting a sustainable and fulfilling existence.
Short, Sample Analysis
I live in a condominium in Littleton, Colorado with my wife and almost three year old son. The purchase of the condo was part of downsizing from a house to reduce my unavoidable and essential expenses. But, ownership of the condo creates the following unavoidable expenses: (a) property taxes, (b) electricity and gas, (c) home owners association dues (which covers water, garbage, among other expenses), (d) home owners insurance (because the mortgage requires it). The only other unavoidable expenses are those related to earning income; if you earn income, you have income tax, state income tax (in Colorado), Medicare and Social Security. That's it. As you can see, the category of unavoidable expenses is relatively small.
The mortgage payment is an Essential Expense. As I sit today, to have shelter, I need to pay my mortgage. I cut my mortgage payment in half by going from a house to a condo, but I still have a mortgage expense and in this scheme, the mortgage payment provides shelter, so the mortgage payment is an essential expense. On a longer term horizon, I can come up with a way to further reduce this payment, but for now, it is what it is.
Most debated expenses categories
Be forewarned, the most debated categories are phone, internet, and television entertainment. Television entertainment is almost always going to be luxury. Unless you really use your phone and internet for work, I hate to break it to you; those categories will fall into luxury expenses. Debating the true need for mobile phones is a different article, but as I said above, by properly categorizing the expense, you can make an informed choice on how much you really need it.
Image Courtesy of Stuart Mills / freedigitalphotos.net.