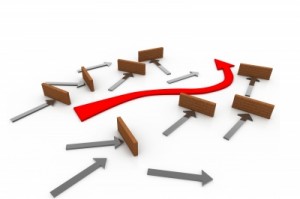 I am certain that financial distress creates the same psychological and evolutionary response as our ancestors felt sleeping in the open on the Serengeti Plain surrounded by predators.  In modern society, threats to our livelihood do not come from lions or snakes, but from disruption in income. The same fear and doubt exists today if we can't pay our mortgage, are being stalked by debt collectors, and sued by attorneys as our ancestors felt when a lion pride was nearby.  This fight or flight mechanism, and our emotions tend to cloud our reason and judgment, making it difficult to pick an appropriate course of action.
However, when it comes to debt, the question is fundamentally simple:
You can either pay the debt, or you can't. Most of the time our circumstances dictate the choice: loss of job, huge influx of debt from illness or injury, etc.
As a bankruptcy and debt relief attorney, I spend my time helping people when they have decided they can't pay their debt. However, a different path is on the map, you can figure out a way to pay the debt.
The Solution: Radical Financial Downsizing
For most debt riddled individuals, the only way to successfully pay off debt is to radically downsize expenses. After all, the math is simple: You either increase income, or decrease expenses. Increasing income in the short run is often not feasible, so the only other option is to decrease expense to free up money to pay debt.
Why Radical Downsizing?
Debt is a cancer. Cancer kills you by unbalancing your body chemistry to the point the body can't function. Debt does the same thing to you financially. Debt keeps you from saving money for emergencies, large purchases, retirement, your kid's college, growing your business, and paying your basic bills; all the things you are supposed to be doing with your money. So, debt must be killed quickly.
Berkus 3 Year Rule: Any debt repayment program must pay off the debt in 3 years or less. If you can't pay off the debt in 3 years, the plan is a failure and sacrifices too much of your financial   future.
What is Radical Downsizing?
Here is where things get tough. Radical Downsizing is what it sounds like; it is more than just downgrading cable T.V. and shopping at CostCo. Radical Downsizing means looking at all expenses, even the big ones: housing, transportation, and everything else. Yes, to radically downsize I am talking about moving in with relatives, or getting a super cheap residence, getting rid of the car payment and driving a clunker, and making do with only necessities.
Example: Credit card debt is $40,000 with an average interest rate of 16%. If this family paid the minimum payment, it would take 614 months—51 years—to pay off.  A payment of $1,400 per month would be required to pay off the debt in 36 months.
So, let's look at a budget for a family of 4 earning $60,000 per year, or $5,000 per month
| | | |
| --- | --- | --- |
| Gross Monthly Income | | $5,000 |
| Payroll withholding | -$700.00 | $4,300 |
| Credit Card Payment | -$1,400 | $2,900 |
| Savings required to stop using/relying on credit | -$400 | $2,500 |
| IRS Food Allowance | -$777 | $1,723 |
| Vehicle Operating Cost, Insurance, Gas, Maintenance, 1 vehicle | -$300 | $1,423 |
| Medical Insurance (being generous here and assuming partial employer paid) | -$200 | $1,223 |
| Out of Pocket Medical | -$40 | $1,183 |
Notice, we have barely scratched the surface of expenses; and already, this family only has $1,183 left. Note too we are assuming no car payment, only 1 vehicle, and no child day care  We haven't even touched on clothing, eating out, laundry, hygiene, cleaning supplies, cell phone, Internet, charity, gifts, entertainment, dental, and all the other miscellaneous expenses that add up.
This family has no room in the budget for a mortgage or rent payment, no room for a car payment. At most, this couple might be able to swing $400 per month in rent. Few places in the U.S. you can house a family of 4 for $400 per month.
A choice exists between bankruptcy and paying your debt. However, if the goal is to become debt free by paying the debt, you will likely need to make sacrifices that you are either unable or unwilling to make; but nevertheless, you have a choice.
Bankruptcy exists so you do not need to Radically Downsize. However, that option exists and it is your choice. So, is it possible to avoid bankruptcy, yes ; is it generally feasible to do so, rarely.
Image courtesy of FreeDigitalPhotos.net