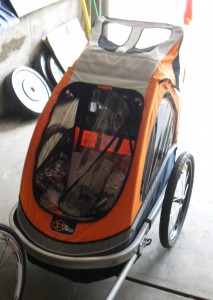 Life after bankruptcy, for most people, doesn't change all that much. Financial security requires rethinking our lifestyles and societal norms. Society tells the middle class they need 2 cars and 2 car payments. An average family's largest monthly expense is housing and transportation. Bankruptcy is primarily caused by a sudden, devastating economic event. Therefore, simply cutting expenses around the edges is rarely enough to stave off bankruptcy. The lesson of bankruptcy is that a plan and changes are needed to weather the next bankrupting event.
However, this article is not about whether you should experiment with alternatives after bankruptcy. I am writing it to illustrate that alternatives can be done. Any time I write advice articles on lifestyle and spending, I experiment first. Today's experiment was shopping at Costco by bike. First, the basic stats:
Family profile: husband, wife, 1 toddler.
Distance: by bike, to CostCo, 4.82 miles, one way (mostly bike path except for 0.5 miles).
Elevation gain: 150 feet (basically flat).
Weather: mostly sunny, 84 degrees, 25% humidity.
Set-up: road bike with a Via Velo Montalban Trailer 3, weight 35lbs.
What I bought: Total weight, 47.5lbs; Total cost, $75.01
2 gallons whole milk, weight 17lbs
18 eggs, 2.5lbs (the eggs survived)
Fresh carrots, 10lbs
Blue berries, 2lbs
Frozen chicken thighs, 6.5lbs
Fresh broccoli, 3lbs
Top sirloin steaks, 3lbs
1 bag, M&M Candy, 3.5bls
Had to play a little bit of Tetris to get the items to fit in the toddler trailer, but it worked. I was a little worried about the eggs, but they survived. I was also concerned about the weight. I almost didn't buy the milk, but stuck to the plan. I also brought a bike lock, a pair of sandals to walk around the store (as opposed to my clip on bike shoes), and a loose pair of pants to put on over bike shorts. The ride was uneventful, but hot. So, I brought a small cloth to wipe down before going into the store.
Total elapsed time by bike, 1 hour, 19 minutes. Typical elapsed time by car is 50 minutes. However, with the bike, you are multi-tasking. You are doing a chore and getting exercise.
In any event, life after bankruptcy need not repeat your life before bankruptcy. Use bankruptcy as a way to really evaluate your needs and wants and experiment with different ways to cut expenses. Happy riding.