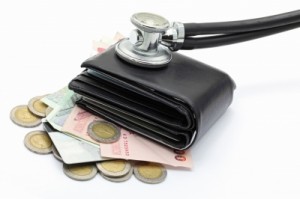 Unless the medical provider explicitly agreed to accept payments, the provider can send your medical bills to collection even if you are sending voluntary, partial payments. Legally, a medical bill is due in full. The medical provider may offer payment plans. However, if the patient/debtor cannot (or does not) pay the offered monthly payment or pay in full, then the debt is in default. At that point, the medical provider can send the medical bill to collection.
The idea that a debtor can make any payment they want toward a medical bill and avoid collection is a myth. Unfortunately, you get no points for trying. I certainly understand that you may be paying all you can afford; but legally, the bill is due in full. Alternatively, if the medical provider is willing to accept payments, you must pay the amount they are willing to accept. A payment plan is a voluntary agreement. Paying less than the amount due each month is still a default on the medical bills.
The origin of this myth is a mystery. I suspect it might be related to the idea that many hospitals are non-profit organizations and therefore supposed to be more willing to help? However, non-profit does not mean charity. Hospitals are still a business with a goal of making money. Second, the treatment providers in hospitals are for profit enterprises: the doctors, labs, and diagnostic providers are for profit outside companies. From their perspective, you received a service, and they are entitled to compensation for that service.
Everyone always asks this next question. Can the provider keep my partial payments and still send me to collection? Yes. If the debtor is not paying the agreed amount, the medical provider can still keep whatever payment the debtor sends and still send the medical bills to collection.
If your goal is to avoid collection, you really only have two options. You may either reach an agreement with the medical provider that you can actually afford or file bankruptcy. Bankruptcy discharges medical bills.  Large medical bills are the leading cause of bankruptcy. Don't put yourself through the hassle of dealing with medical collections. Let bankruptcy recover you financially, so you can recover physically.
Image courtesy of Vichaya Kiatying-Angsulee, freedigitalphotos.net