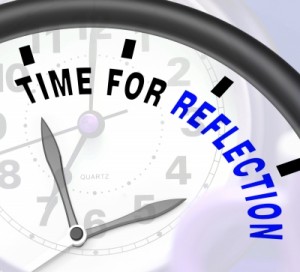 One of the guiding principles of my life is to only spend time and energy on those things over which I can affect and control. I can do only that which I have the power to do. This concept is implied by the truth that time is the only, truly, limited resource. Once time is gone, you can't get it back. The implication is that time must be spent wisely and therefore you should only spend time on things over which you have power or control.
If you want to dramatically drop your stress level, do not worry, spend time on, nor give two thoughts to anything over which you have no control. When you embark on this exercise, and really commit to it, you will come to realize that there is precious very little in the world over which you have any impact or power. That realization is freeing; it frees you to focus on what matters and you become laser focused on what you can do.
I don't view such a mindset as passive, deterministic, or nihilistic, it is none of those things. The control mindset is not about surrendering yourself to the whims of the universe. The control mindset is simply a realization that we should only act (take action) and spend time and mental energy on choices over which we can affect or control. The first step is to limit inputs. For example, I don't subscribe to cable or satellite T.V., and I rarely browse news website. That might make me a poor conversationalist at social gatherings, but there is rarely anything on the news over which I can exercise any control or that will alter any actions I might take that day, week, or month.
The One Debt Relief Option in Your Power is Bankruptcy
Many of my prospective bankruptcy clients are in pain. They have been struggling with debt for years. For most prospective bankruptcy clients, the reason they are facing bankruptcy is due to events beyond their control: stock market crash, housing bubble burst, loss of job, etc. But instead of focusing on what they can do, they lament what has happened to them or focus on the wrong problem. They focus on what they might want to do, not what they can do. I call it the if only disease; if only such and such would happen then I could…fill in the blank. The possible roads out of debt are actually simple and include the following: (1) pay it, (2) settle it, (3) bankrupt it, (4) do nothing and wistfully hope for a miracle (number 4 doesn't really get you out of debt, but it is one of the possible choices).
All options except bankruptcy are out of your control. Option 1, pay your debt. If you don't have the money to pay off your debt, that option is beyond your control. If you cannot afford the monthly payments dictated to you by your creditors, then that option is beyond your control. That also means that the health of your credit score is beyond your control. Sure, you can work on trying to earn more money and should do that anyway, but whether you get a better job, a raise, etc., is out of your direct control.
Option 2, settle your debt. First, your creditors are under no obligation to offer any settlement. So, whether your creditors will settle, and the settlement amounts are beyond your control. If a settlement is offered, you can either afford it or not. However, the idea of settling debt is an option over which you have no control. You have no control and very little effect on whether debt settlement will succeed in relieving your debt. To do debt settlement requires you to default on your debt; as a result, you lose control (what little you had) over your credit score and what will happen (lawsuits, wage garnishment, etc.).
Bankruptcy is the only proactive choice that gets you out of debt and over which you have control. You can make the decision to file bankruptcy and relieve your debt. In Colorado, approximately 20,000 people file for bankruptcy each year. Most people wait a year or more before making the decision to file bankruptcy; so conservatively, at least 60,000 Coloradans need to file bankruptcy right now. That need to file bankruptcy is probably much higher since, according to an Urban Institute report, 31.2% of Coloradans have a debt in collection (or about 1 million adult Coloradans).
All Decisions have Consequences.
All decisions have consequences, whether the consequences are good or bad are relative only to the alternatives. For most debtors, the decision to file bankruptcy is made by their circumstances. Again, you can do only that which you have the power to do. If you can't afford payments, if your creditors won't work with you, if you don't have cash to settle, (and if you did, you probably wouldn't be facing the situation in the first place), bankruptcy is the only choice left. Bankruptcy is the only option that you have the power to employ. I understand; the propaganda against bankruptcy is strong, and debtors agonize for years coming to terms with needing to file bankruptcy. That saddens me because I know that bankruptcy is a solution and the start of the path to financial stability, not the end.
It may sound like I am saying you have no choice but to file bankruptcy, but that is not the case. You always have a choice, but people rarely think through the consequences of choosing not to file bankruptcy. The main problem with not filing bankruptcy is that not filing doesn't get you out of debt. In that choice, you really have surrendered yourself to the whims of the universe (not good).
I know it is tough, I have had to recommend bankruptcy to family members and it was hard. If you cannot pay your debt on the terms to which you agreed (or really, on the terms your creditors have dictated to you), that is problem. The goal then becomes how to solve that problem, how to get out of debt? You can't spend time and energy and what you might want to do, you can do only that which you have the power to do.
Photo courtesy of Stuart Miles, FreeDigitalPhotos.net