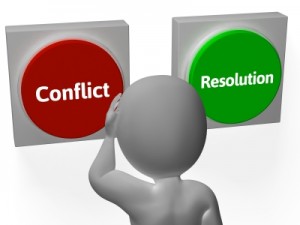 The threat of bankruptcy during a debt settlement negotiation seems like a common sense tactic. Many articles and books on debt settlement advise to make the threat of bankruptcy. Naïve debtors assume that the collector would rather receive something than nothing. However, the threat of bankruptcy falls on deaf ears. In short, the threat of bankruptcy is meaningless to the opposition.
The Illogic of the Threat of Bankruptcy
Creditors and debt buyers call your bluff because of the illogic of the bankruptcy threat. Why are you calling discussing settlement if you could file bankruptcy and pay nothing? Bankruptcy eliminates most debts. So the idea that you are calling willing to offer a settlement makes no sense. As such, the threat of bankruptcy is viewed as an empty threat, or at least, inconsistent with the desire to settle.
The funny irony here is that your creditors understand that bankruptcy is, usually, the best option for resolving defaulted debt. Granted, they will try to deter you at every turn and reinforce your fears. Nevertheless, they understand that it is totally illogical for you to be discussing settlement if you could or intend to file bankruptcy.
They Have Your Credit Report
Creditors and debt buyers can assess your risk of bankruptcy. They have access to your credit report. Moreover, FICO offers a product called the Bankruptcy Score which assesses the risk an account holder will file bankruptcy. In short, the creditors can, to some degree, independently weigh your threat of bankruptcy.
Bankruptcy is Not a Total Loss to Creditors
If you are dealing with the original creditor (e.g. your credit card company), the threat of bankruptcy is particularly meaningless because the creditor has an upside. Original creditors have three ways to make money on your defaulted debt that is better than the meager settlement you are hoping to get. (1) Original creditors sell the debt into the debt buyer market. (2) Original creditors often have insurance that pays when a debt defaults (and is charged-off) or is discharged in bankruptcy. Lastly, (3) original creditors can write off charged-off debt on corporate taxes. Original creditors make money whether you file bankruptcy or settle.
For Debt Buyers, bankruptcy is a portfolio clearing tool. Debt Buyers buy millions of dollars of debt representing thousands of borrowers. However, they don't view profitability on an account by account basis, they look at the return on the portfolio. As such, they don't need to collect on all accounts (not even most of the accounts) to have a wildly profitable portfolio. Debt Buyers will work a debt for about 2-12 months. Debts that go bankrupt can be culled and sold (yes, there are companies that buy bankruptcy debt). Then the debt buyer can sell the remaining, non-bankrupt, debts after it reaches its portfolio collection threshold. As a result, the threat of any one account filing bankruptcy doesn't mean anything because bankruptcy is already factored into the portfolios performance.
Still, Should You Make the Threat of Bankruptcy?
Although the threat of bankruptcy is not heeded by your opposition, doesn't necessarily mean you shouldn't do it. The take-away is that you shouldn't be counting on the threat of bankruptcy to somehow get you a better result. Too many debtors think the threat of bankruptcy is like nuclear bomb of settlement negotiations, its not. Feel free to toss around the 'B' word, but understand that it is a tired tactic that yields no discernible difference in result. Also, you really should reconsider the entire idea of settling your debts. Your creditors understand that the most logical thing a debtor could do is to file bankruptcy; instead of bluffing, just do it, save your money and get a fresh start.
Image Courtesy of Stuart Miles / FreeDigitalPhotos.net