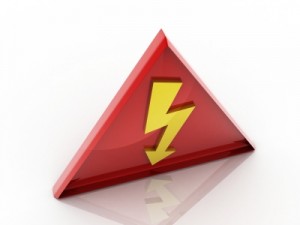 Financial distress often leads to denial. When a person can't pay bills, it is usually due to having too much personal debt coupled with some event that decreased income. However, humans are keenly adaptable. Over the millennia, adaptability has allowed our species to evolve, but we can equally adapt to bad circumstances. Being in debt, screening phone calls, and ignoring collection letters become the new normal. As we adapt, the trigger to action becomes extreme; those that let their debt go unpaid long enough, that trigger is usually a lawsuit and wage garnishment.
You must heed the early warning signs. The warning signs of too much personal debt fall into two categories: (1) the Berkus Formula, a simple formula to calculate whether you have too much debt; and (2) practical signs that you are in too much debt.
Berkus Formula and Rule: 
1. Total non/mortgage and non/vehicle debt divided by gross annual income. (multiple the result by 100 to get percentage).
Example: Family A has $40,000 in credit card debt and $20,000 in student loan debt. Combined gross annual income is $74,000 per year.
($60,000 / $74,000) x 100 =  81%
2. The rule: Any result over 35% means you have too much debt and must consider bankruptcy.
3. If you earn less than $60,000 gross annual income, that threshold is 25%.
Practical Warning Signs that you have too much personal debt:
Only paying minimum payments to credit cards
Paying bills late
Unable to get new credit
Having 1 or more maxed out credit cards
Over-drawing your bank account
Using your overdraft protection monthly
Having no discernible retirement savings
Thinking about withdrawing or have withdrawn funds from retirements accounts (pre-retirement)
One or more of your credit cards has reduced your available balance to the existing balance.
Credit card being denied at stores
Withdrawing from family and friends
Asking creditors to reduce payments
Making partial payments instead of the full payment due
Not opening bills and statements that come in the mail
Screening phone calls to avoid talking to bank, credit cards, collection agencies, etc.
If you have done, or are doing any of the above, catch yourself. Snap out of denial and seek expert help to solve your financial challenges. I guarantee you that an option exists that will lead to a better life without debt.
Image courtesy of FreeDigitalPhotos.net